Top Eleven 2019 - Be a soccer manager
8.12
Soccer Manager – Are You Better Than Jose Mourinho?
If you want to know how a club is run and managed then this soccer manager is the ideal game for you. Top Eleven 2019 is a nice game which gives you the chance to manage a football club and lead it to victory. It will let you be the manager of a club of your choosing. You will be able to name the club and choose its emblem. There are official jerseys of various top clubs available as well that you can pick for your team. Your aim in this game is to manage the day-to-day affairs of your club. You will have to take care of the club's finances and also get the team ready for upcoming matches.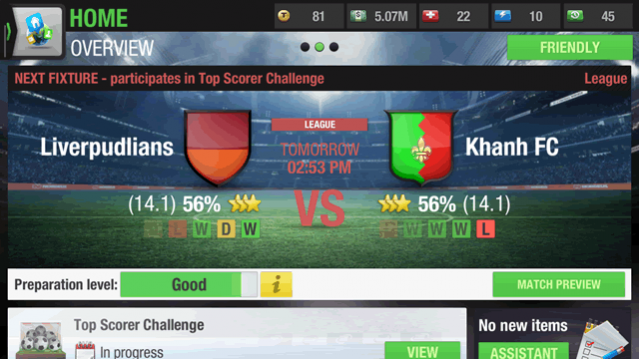 Top Eleven 2019 has smooth gameplay which is well-supported by decent graphics. The controls of this soccer manager are simple enough as well. However, it might take you a little time to get used to the different menus and screens. You can move from one screen to the other using the drop-down menu that can be accessed by clicking the button located on the top-left corner of the home screen. Here you will find links to all the different sections of the game. Before you get to play, you will have to decide whether you want to sign-in using your Facebook account or play as a guest. After making this decision, you need to choose a name for your club and start your journey as its manager.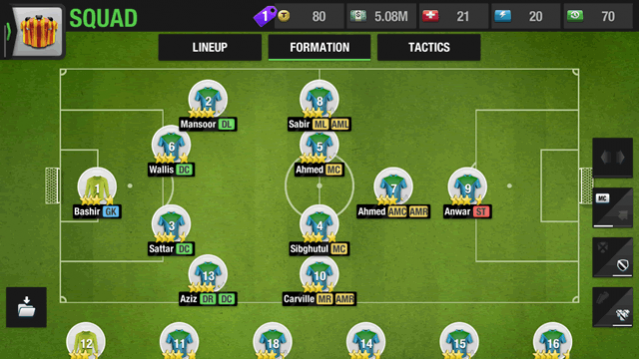 Your primary task in this soccer manager would be to manage the squad of players that is given to you. You can look up each player's stats and abilities and decide which players are worth keeping and which of them need to be traded for new players. Being the manager of the club, you will have total control over the player transfers. There is a live transfer market where you can buy new players and sell the ones that you don't need. However, you do need to monitor the finances of the club and ensure that there are funds available for buying new players. You can raise the club's finances by signing sponsorship deals. Aside from player transfers, you will also be in charge of player training and team formation.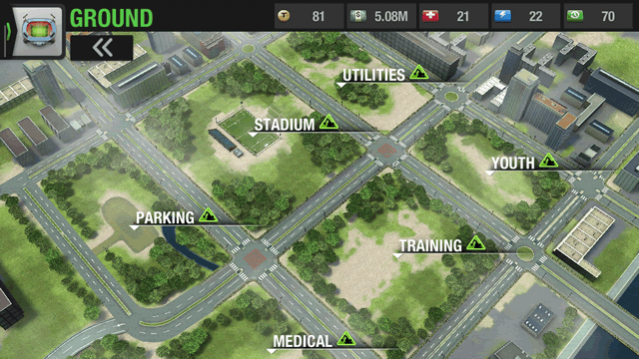 Top Eleven 2019 gives you the chance to go behind the scenes and see how a football club is run. You will get to make decisions regarding the stadium and the facilities available to the players at your club. Each decision you take will have an impact on the club's finances as well as the morale of the team. As a manager, it will be your duty to ensure that your players are happy and fully fit for every match. For this, you will have to manage their training sessions and give them enough rest so that they are ready on match day. This soccer manager lets you participate in league and cup competitions and take on the best managers in the world.
Features:
Manage the squad of players you have
Train the players to enhance their abilities
Get the team ready for the matches
Decide team formations and tactics
Live transfer market for buying and selling players
Develop the stadium and its surrounding facilities
Monitor the club's finances and sign sponsorship deals
Take part in the league and various cup competitions
Conclusion:
Top Eleven 2019 is a gaming app which is designed for people who love soccer and are curious about the role that the manager plays in the club's success. It lets them become the manager of a club of their choice and perform all the tasks that a manager needs to perform to make the club successful. It is an excellent soccer manager game and you should try it if you are a football fan.
---
Add a review
Tell us your experience with
Top Eleven 2019 - Be a soccer manager
8.12
RELATED PROGRAMS
Our Recommendations
---
---
---
---